Dynamic voltage compensator «KANON»
It is crucial for energy providers to maintain high quality power including voltage level and balance. Depending on the connected consumers, quality characteristics are changing, and, in their turn, under significant deviations may lead to failures in operation, and the following damage of equipment. Maintenance of power quality is of critical importance regarding remote consumers connected by limited power lines.
At the moment, the voltage compensation system (VCS) - is the most efficient and up-to-date solution to short-term voltage dips (overvoltage, voltage failures) with relatively small depth.
Compared to conventional devices (UPS, voltage regulators) VCS has several significant advantages:
high efficiency 97-99%;
small weight-size parameters;
instant integration with the existing systems.
Dynamic voltage compensator «KANON» (DVC) was designed by «REO» LLC on the basis of voltage compensation system (VCS). DVC operates on forward error principle with an instant response (250 microsecond) to voltage vector change (amplitude and phases) at the checkpoint of electric power supply system.
«KANON» consists of a booster transformer, rectifier and inverter based on IGBT transistors, bypass system and electronic control system, as well as energy storage system (ESS).
While power system is operating, ESS is accumulating energy, and then delivers it to the system when needed - during peak demand or voltage failures. This decreases consumer reliance on voltage fluctuations and improves the power quality for an end user. Power augmentation of the existing transmission lines and transformer substations is not required.
DVC (VCS combined with ESS) provide the following advantages:
compensation of voltage failures;
voltage generation for users in case of voltage failure.
DVC «KANON» with power range up to 1 MW is intended to compensate supply voltage distortion.
The battery system «Prometheus» type produced by «NPK Morsvyazavtomatica» LLC is used as ESS.
DVC control system is a PLC-based automatic microprocessor control system providing detailed data on the status of the device connected to the microprocessor system, and efficient control of the equipment by control signals.
Main functions of the system:
to control DVC operation in manual and automatic modes
to monitor electric power quality
to prohibit operation of DVC and connected equipment in emergency modes, long marginal operation, and to prevent equipment failure
to display data on the compensator operation on the touch LCD and signaling units
to operate with the higher level CAPS
Operator's panel consists of LCD touch screen and uses RS-485 TCP/IP Ethernet interface.
Code

Rated output power, kVA

Power with allowance for overload, kVA

Output voltage, V

Rated output current, А

Current with allowance for overload, А

Output frequency, Hz

KANON - 01

200

220

380

305

335.5

50

KANON - 02

400

440

610

671

KANON - 03

600

660

915

1,007

KANON - 04

800

880

1,220

1,342

KANON - 05

1,000

1,100

1,520

1,672
Main features of the voltage compensator «KANON» series:
voltage failure compensation up to 50%
voltage generation in case of power failure (time depends on the battery capacity). Time of autonomous operation may be prolonged by increasing the number of batteries
compensation of full input voltage failure
own control system with intuitive interface and integrated technical diagnostics tools
remote monitoring and control of the system including the internet monitoring
high speed operation
input voltage compensation in case of voltage imbalance
customizable design on request to meet all customer requirements
DVC modular design allows for placing the following sections next to each other:
transformer section
converter section
control section
The System may be installed both indoors and outdoors.
Framed modules are combined welded structures from sheet and rolling material. The indoors type may be transported by sections. Two lifting angle parts with holes (on the transformer section) and eye bolts (on other sections) are placed on the top of the sections for transportation. Each section is installed on the separate base made of sheet material. The transformer base is made of rolled channel. The outdoors type is only delivered installed inside the container.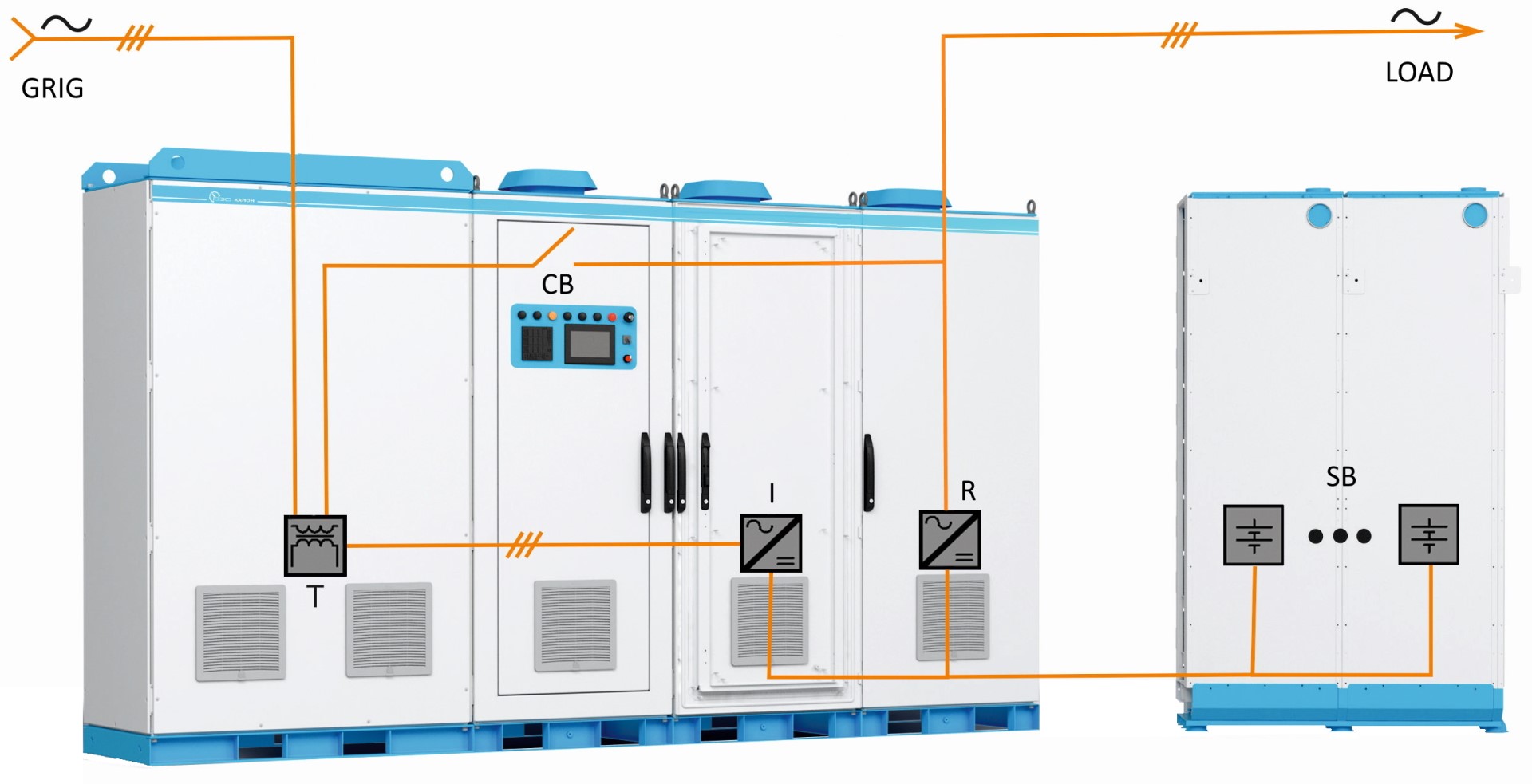 DVC for installation indoors
Т- transformator; CB – circuit breaker; I – inverter; R – rectifier; SB – storage battery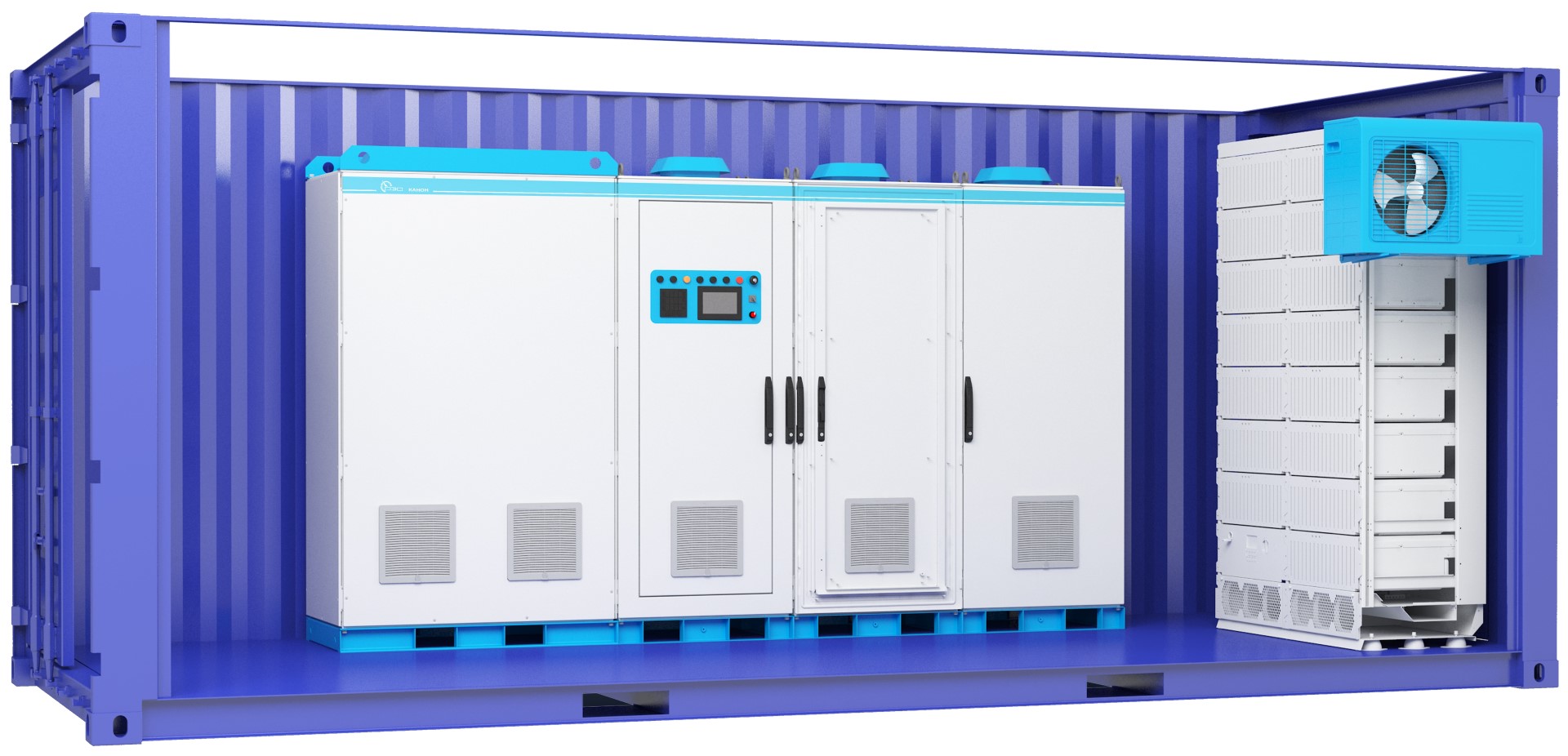 DVC for installation outdoors in container
Container type of DVC requires installation of a modular building.
The modular building is designed to house electric equipment and personnel. It consists of the transportation module on the basis of steel frame covered with sandwich panels. External layer of the panel is made of steel sheets with protective polymeric powder, depending on climate conditions. The building shall be installed on the flat horizontal surface. The base of the building is cold-proof according to the applicable standards; its thickness is selected according to the climate zone. The roof may have different types: single, double, liftoff, stationary, with an attic (cold, cold-proof).
Standard scope of delivery includes the following systems: lighting, heating, ventilation, air conditioning, as well as fire and security alarm systems. Service platforms and stairs are provided on request.