Bidirectional frequency converter "PAPIR"
Bidirectional frequency converter, PAPIR series is produced with power range 1 to 5 MW and widely used in power systems to control vessel's propulsion system - propulsion/steering unit and thruster. PAPIR ensures smooth start and stop of electric motor, controls its temperature, power and speed, as well as protects the electric drive.
The unit functions as a voltage converter with pulse width modulation and active rectifier based on high-power IGBT transistors. Power converter assemblies are used as transistors due to high resistance to harsh environmental conditions and temperature cycling.
PAPIR microcontrollers are based on up-to-date processor with 180 mln flops performance. High quality control system maintains accuracy of output frequency at 0.1%. The converter supports vector (both with and w/o encoder) and scalar (w/o encoder) types of electric motor control.
Frequency converter uses RS-422/485 interface to operate together with control systems of higher level. Additional devices such as temperature sensors, encoders, tachometers, etc. can be connected. The converter's software conducts in-depth diagnostics of its condition; non-volatile error and alarm history ensures operation monitoring.
The control panel has 8'' touch screen with user-friendly interface, as well as duplicate control buttons, rpm and motor load indicators, sound and light signaling units and emergency stop button.
The main screen displays key information: power contactor position, cooling system status, rpm and motor load indicators and warning / alarm notifications. All information is displayed as a simple mimic diagram. Additional screens allows for carrying out in-depth diagnostics of the electric drive.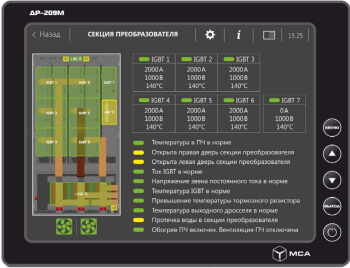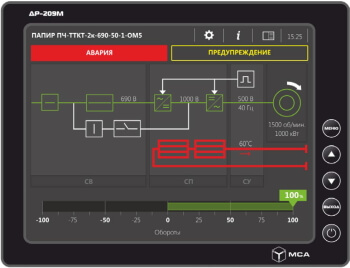 "Russian Electrotechnical Company Limited" manufactures frequency converter, PAPIR series according to Technical specifications and type approval certificate issued by Russian Maritime Register of Shipping. Up-to-date production facilities with several parallel assembly lines and trained specialists enable to produce reliable equipment within the shortest time.



The unit's modular design allows for easier transportation and installation on the vessel. The enclosure has a heightened rigidity and mechanical reliability. Simultaneous operation of two converters ensures maximum power of 5 MW.
Max. weight of converter with power 2.4 MW is 2,800 kg under dimensions 2400х2000х800 (WхHхD). The converter's power-to-weight ratio is more than 800 W / kg and 625 W / dm3. IP rating – IP44.
The converter consists of two sections:
power input and control section ensures power input, switching and distribution, control and protection of the internal devices, control from the local panel, interfacing with external ship systems and units. The section contains voltage control relay, automatic circuit breaker, input filters, voltage sensors, controllers and other equipment.
conversion section ensures voltage level and frequency conversion, containing controlled rectifier, DC link with water-cooled brake resistor and voltage inverter. The converter is produced in two designs with mirror arrangement of sections for convenient and optimal installation on the vessel.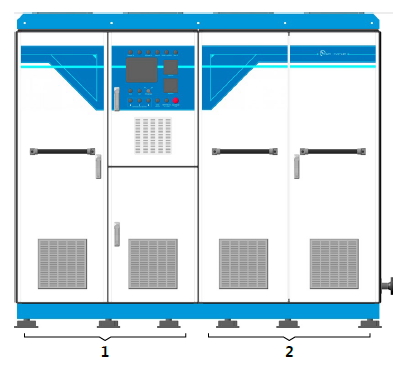 Small dimensions at high power: power-to-weight ratio > 800 W/kg and 625 W/ dm3
Converter may be used in complex power distribution systems due to bidirectional inverter
Controlled rectifier provides for high quality of harmonic current; no need in input transformer
Easy transportation and installation due to modular design
Intuitive user-friendly interface with wide functionality
Integrated brake resistor (at option)
Seawater/fresh water circulation system (at option)
Rated output power, MW
1,2
2,4
Max. power consumption (including overload), MW
1,855
3,711
Input power
3х690V, 50Hz
Output voltage, V
0…690
Rated output current, A
1005
2010
Overload capacity, %
120% - 60s., 150% - 3s. (after 10 min.)
Output frequency, Hz
0…60
Power factor cos φ (rated speed)
0,95
Efficiency, %
97
Generated thermal power, kW
42
78
Nominal flow rate of cooling fluid, l/min
40
72
Closed loop of fresh water circulation is used to cool frequency converter and ensure its highly reliable operation and long life. Water circulation system on seawater – fresh water is at option.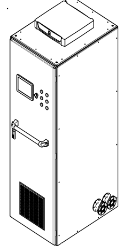 Heat transfer using brazed plate heat exchanger, water-water type
Flow and fluid temperature sensors
Remote control (from the converter or external system) and duplicate controls on the front panel
Redundant pump of closed cooling loop
Convenient expansion tank to replace cooling fluid in closed loop
Water circulation system is manufactured as a standalone section; it may be installed immediately adjacent to the converter (from water inlet flanges side) or separately.